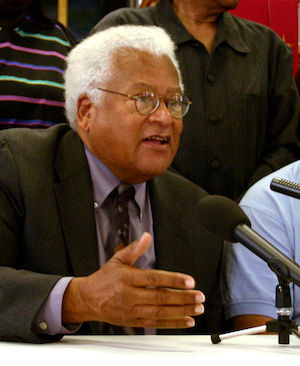 The following was written Kendal at Oberlin resident John Elder and was originally published on The Oberlin News Tribune.
Dr. Martin Luther King Jr. made several visits to Oberlin, Ohio, but his first, in February 1957, proved momentous for the future of the Civil Rights Movement. The 381-day Montgomery bus boycott, during which King began to make a name for himself in the movement, had just ended. King spoke at First Church on "Justice Without Violence" and "The New Negro in the South" and at a Finney Chapel assembly on "The Montgomery Story." After one of these lectures, theologian Harvey Cox, then the YMCA-YWCA Secretary at Oberlin College, arranged for King to meet an African American first-year student at the Oberlin Graduate School of Theology, James M. Lawson, Jr.
Lawson, the son of a militantly anti-racist Methodist minister and his pacifist wife, had declared himself a conscientious objector at the age of 19 and was sentenced to federal prison. After his release in 1951, Lawson returned to his BA studies at Baldwin-Wallace College, but also spent time meeting with Methodist student groups, including at Oberlin, to talk about pacifism and non-violence.
Following graduation, Lawson traveled as a short-term Methodist missionary to India, where he continued his study of Gandhian nonviolence. On his return in 1956, Lawson enrolled in the Oberlin College "Theolog," which at the time probably enrolled more black students than all other seminaries combined. Among the courses Lawson took was "The Pacifism of the Early Church: Jesus through Constantine." When Lawson and King met at the beginning of the second semester, King was so impressed by Lawson's knowledge of the theory and practice of non-violence that he insisted Lawson must immediately come south to help the movement.
Lawson decided to transfer to Vanderbilt Divinity School in Nashville, Tennessee. The Fellowship of Reconciliation employed him as Field Secretary to teach local groups about Christian peacemaking and reconciliation in race relations. Soon Lawson was building the base for the Nashville lunch-counter sit-ins of 1960. Central to this process was the workshops in nonviolence Lawson offered in local churches and attended by students from the several historically black academic institutions in the area, as well as Vanderbilt ministerial students.
In Lawson's workshops, the participants explored the roots of segregation and how to apply the Gandhian theory of non-violence, blended together with Christian principles, in actions toward what Lawson called "constructive social change." In the sit-ins Lawson was arrested, along with many others who became leaders in the Civil Rights Movement, including present Georgia Congressman John Lewis. The lunch-counters were successfully de-segregated, but because arrest violated Vanderbilt's code of conduct, the racially conservative Board of Trust and the Chancellor had an excuse for expelling Lawson. Many Vanderbilt faculty members tendered their resignations in support of Lawson, and he was re-admitted, but decided instead to complete his studies at Boston University.
Julian Bond, then active in student protests, says, "Lawson was like a bad younger brother, pushing King to do more, to be more militant, to extend non-violence – just to do more…He envisioned a militant nonviolence…You didn't have to wait for the evil to come to you, you could go to the evil." King himself called Lawson "the greatest teacher of non-violence in America" and "the mind of the movement."
In 1962, Lawson became pastor of Centenary Methodist Church in Memphis, where he continued his activism, most notably in the 1968 strike by black sanitation workers. Union leader Jerry Wurf recalled that the Memphis city leaders "feared Lawson for the most interesting of all reasons—he was a totally moral man, and totally moral men you can't manipulate and you can't buy and you can't hustle." Lawson persuaded King to come to Memphis to support the strikers, and it was there that King was assassinated. In 1974, Lawson accepted the position of senior pastor at Holman Methodist Church. Although retired from that ministry, he continues to be active as a teacher and in movements for labor rights, immigrant rights, civil rights and international peace.
Oberlin College awarded James M. Lawson, Jr. an honorary doctorate in 2010. Dr. Lawson returned to Oberlin last week for a week's residence as Distinguished Visiting Lecturer through Wednesday, March 5. At an Oberlin College Convocation at 7:30 p.m., Monday, March 3, at First Church, where James Lawson and Martin Luther King had their initial meeting in 1957, he will speak on "The Impact of Plantation Capitalism on Today's Human Rights." The public is invited to hear this man of extraordinary integrity, wisdom and vision for our time.
For more information about Dr. James Lawson and his visit to Oberlin College, see this article on The Plain Dealer website.
Photo Credit: Joon Powell via Wiki Commons