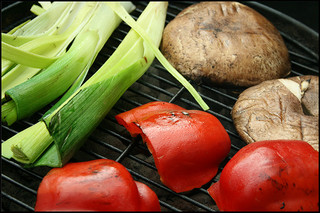 Adding vegetables to the grill is a delicious way to enjoy fresh produce and increase your veggie intake. As we learned in the previous post, vegetables are packed with vitamins, minerals, essential nutrients, disease-fighting antioxidants, and fiber. The Centers for Disease Control and Prevention (CDC) recommend that adults 60+ eat a minimum of 2 to 3 cups of vegetables per day. The grill offers a great summertime option for cooking vegetables.
Follow these tips for perfectly grilled vegetables:
Skewers provide an easy method of grilling fresh vegetables. Cut vegetables into large chunks, halves or quarters. To ensure even cooking, place only one kind of vegetable on each skewer. Because hard vegetables (potatoes, carrots) need more grill time than soft veggies (mushrooms, tomatoes), separating vegetables makes it easy to control cooking times so that everything is grilled to perfection and ready to eat at the same time. To keep vegetables from drying out, baste periodically with your favorite marinade or a mixture of olive oil and spices. Turn occasionally to ensure even grilling. Vegetables are done when fork tender; 20 to 30 minutes.
To grill zucchini or squash, slice into 1/4-inch thick pieces. Lay strips on a double layer of foil. Brush with olive oil and sprinkle with spices. Cover with a sheet of foil, folding edges to seal. Grill for 20 minutes.
No time to grill? You can roast fresh vegetables in the oven. Preheat your oven to 450 degrees. Cut vegetables into like-sized chunks or thick medallions. Cut peppers, onions, and tomatoes into quarters. Mushrooms, cherry tomatoes, pearl onions, green beans, and other bite-sized veggies can be left whole. Toss vegetables in olive oil and place on a baking tray. Sprinkle with spices and roast at 450-degree for 15 to 18 minutes, turning once until fork tender.
For more ways to age successfully in your own home, download our free guide, "11 Ways to Age Successfully at Home."
Photo: AlisonLOL