It has been more than five years since Maggie Calkins' parents decided to invest in a continuing care program. "Because they didn''t need any services right away, it was an investment they were making for the future, it made it easier," Maggie says. It was clear that her father wanted to stay in his home for the rest of his life. Because he had suffered a few small strokes that resulted in a touch of dementia, her mother knew that, at some point, it would be more than she could manage, especially with her own orthopedic issues.
Finding the Right Fit
The couple decided to join Kendal at Home. "It was very easy, mostly because of David (Zientarski)," Maggie says. "He was so easy to talk to; he listened and gave suggestions but in careful ways." The couple did not need any services for the first few years, so they simply attended biannual meetings with David so he could make sure everything was going well. But the idea of having a caretaker in his home was unsettling for Maggie's dad, so her mom came up with a plan for someone to come to the house while she traveled.
"Dad was concerned that someone would be sitting around the house doing nothing all day, and he didn''t want constant questions bothering him while he still had work to do," Maggie says. "We talked to David and agreed to one person coming in for two hours in the morning and two hours in the evening to help my dad get up in the morning and go to bed at night, plus dinner." He was also concerned about what this person would cook for him, so David suggested Boston Chicken be brought over, and the problem was solved. "By talking about what my dad''s concerns were and then discussing them, it eased his comfort," Maggie says. "By the third day when the caregiver came in, he said he would like a poached egg for breakfast. But she didn''t know how, so he showed her. He clearly got to the point where he thought this wasn''t so bad.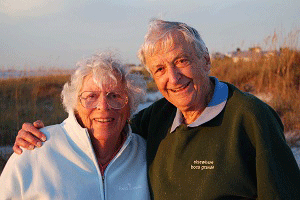 "David found the right person and told her what my dad wanted and didn''t want, and she was responsive to that so it was a very positive experience," Maggie says. It made things easier, as the couple''s needs became greater. They then had some temporary help two days a week to help with the laundry, changing the sheets and other light household chores. When they vacationed in Michigan or Florida, David was able to provide seamless services there for the couple. "It made life easier for them," Maggie says.
Maggie's father continues to lose functional abilities to transfer in and out of bed independently. "He doesn''t understand how to help in a good way, so he throws his weight in the wrong direction, and it is beginning to put strain on the caregivers' backs," Maggie says. "We are talking about getting a lift for the bedroom, but you can''t put it on the carpet." So Maggie and her mother spoke with David and agreed to make plans to rip out the carpeting and put in a new floor. "It is just a matter of talking; we are big on communication," Maggie says. "David is great about coming up with suggestions and recommendations."
Peace of Mind for the Whole Family
Now that her parents are getting 24-hour care, Maggie can rest easy knowing that someone is with them all of the time. "They never want to be a burden on their children, not that we would describe it that way," Maggie says, "but they are taking care of their needs independently." Kendal at Home helps to make every situation smooth and easy for everyone involved. "David is so comforting that even when you feel like there is a crisis, he is able to make you come back down and say, 'There is an issue, but we will deal with it and it will be OK,'" Maggie says. "That level of knowing that it isn''t just a safety net, but he makes things happen so smoothly, it helps your whole state of mind."
To learn more about Kendal at Home, contact us here.