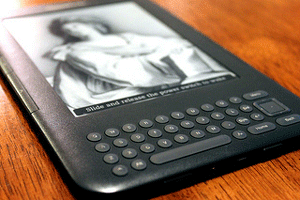 Reading is a pleasure most of us enjoy, but as our eyes age it can become difficult to see the words on the page. Specialized tablet computers called eReaders are providing a high-tech solution to an age-old problem. Early choices were limited to the Amazon Kindle or the Barnes & Noble Nook, but a recent explosion in the tablet computer market now offers users an abundance of attractive eReader choices. eReaders allow Kendal at Home members and Kendal at Oberlin residents to enjoy their morning newspaper, favorite magazines, and books even when small print becomes difficult to read.
eReader Benefits
Designed to be held and read like a book, eReaders are light-weight, book-size computers that typically display one book or magazine page at a time. Similar to turning the pages of a book, eReader pages can be turned one at a time by swiping a finger across the screen. However, because they are digital devices, eReaders have important advantages over paper books. Perhaps the greatest advantage for older adults is the ability to enlarge the typeface on the screen.
Additional eReader benefits include:
Easy Portability: eReaders allow access to a whole library of reading material wherever you go from a single small, light-weight device. You can carry 1,000 books in your purse!
Instant Access: eReaders with wireless capabilities allow you to instantly purchase and download newspapers, magazines, and books or download them free from your local public library.
Easy on the Eyes: Most eReaders have a special glare-free screen that won''t strain or tire your eyes like computer screens can. The screens on many readers are easily visible even in intense sunlight.
Economic Advantage: Many new books are cheaper in the ebook format than buying the same title at the store. Some eBooks are even available as inexpensive, limited-duration "rentals." When you "purchase" these eBooks, they are available on your eReader for a prescribed number of weeks. When the time expires, the files become inactive and you can no longer access the books.
For more information on eReaders or ebooks, contact your local public library.
Photo credit: Librarian by Day via photopin cc