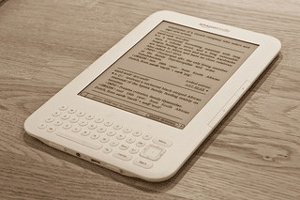 As technology advances, so do our options! With the advent of eReaders, book lovers have more options than ever for the means of delivering their favorite prose. But choosing the perfect eReader can be overwhelming, especially for those of us who do not have much experience with computers. The fast-growing eReader market features plenty of bells and whistles, but the best eReaders for your personal needs may not be the one with the most features.
If you plan to buy an eReader, consider the following:
Try before you buy. Before investing in an eReader, borrow one from a friend or your local library (many libraries that stock eBooks also lend eReaders to patrons) and try it out for a few days. Most eReaders require only basic computer skills, although you usually need an email account and Internet connection to purchase and download eBooks.
Library compatibility. To save money, choose an eReader that is compatible with the free digital books, newspapers, and magazines available from your local library.
Budget considerations. Quality eReaders are available today to fit every budget. Don't get distracted by high-priced features. Determine how much you want to spend and shop for eReaders within your budget.
Ease of navigation. Look for a user-friendly, intuitive eReader that is easy to navigate. You shouldn''t have to review the tutorial every time you pick it up.
Screen size. Larger screens are easier to see and can display larger type; however, smaller screens are more portable and can be slipped inside a purse or carryon bag if you''re traveling. Screen size (typically about 6 inches) also affects the weight and thickness of the device. Your eReader should be comfortable to hold for long periods of time. Choose the device that best meets your personal needs.
Check back next time for even more tips on choosing an eReader!
Photo credit: Jules Holleboom via photopin cc