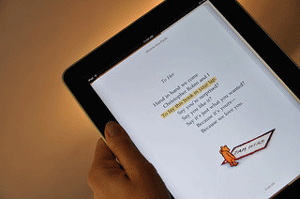 With so many options available, eReaders are becoming increasingly popular with older adults. The ability to enlarge the type size of printed materials coupled with the near limitless access to reading materials that is making eReaders popular with Kendal at Oberlin residents and Kendal at Home members.
The growing popularity of eReaders has many mature adults considering their purchase. To assist people in making purchasing decisions, today we complete our review of popular eReader features begun in our previous post:
Battery life. The life of a typical eReader battery provides about 7,000 page turns. Extra bells and whistles, like Internet browsing, can cut into battery life. Consider how long the device will operate between charges and how long charging takes. Some batteries can go months between charges; other must be recharged every 4 to 5 hours. You might also want to consider the ease of battery replacement. Can you do it yourself or do you have to mail the device to the factory?
Control mechanism. Some eReaders are controlled by a touch screen operated by your fingers or a handheld stylus. Others require manipulation of one or more control buttons. Arthritis sufferers and others for whom finger dexterity is an issue will want to try out the controls before they buy.
Readability. Look for a device with good screen contrast and crisp letters. The screen should be clearly readable in both bright and low light.
There are numerous Internet sites that review and compare specific eReaders, but we found the analyses provided on eReader Central to be particularly helpful. The site provides detailed analyses on all the most popular eReaders and offers a handy chart comparing the features of the four top-selling devices, so check it out today!
Photo credit: verbeeldingskr8 via photopin cc