Birdwatching – or birding as fans call it – is an excellent active hobby for older adults who appreciate nature''s majesty. If you''re an older adult who has ever considered birding, now is a great time to start! The first few weeks of May are prime time for birding in the Midwest, and Northern Ohio has some of the best places to see migrating birds in the country. Birding fans from around the world flock to wildlife sanctuaries and state parks along Lake Erie, where it''s possible to see more than 100 species in just a few days.
Birding speaks to the nature-lover in all of us. It's fun alone or in a group, and it gets you outside into the fresh air and sunshine. Best of all, birding is a healthy activity that will exercise your body and mind as you get out there and learn to identify nature's most colorful creatures.
Want to get started with birding?
Get Some Basic Equipment – You can spot birds without any special equipment, but a few tools of the trade will help. First, you should get a quality field guide. The Iowa Nature Mapping Program suggests A Guide to Field Identification – Birds of North America or Field Guide to Eastern Birds, both of which are easy to use and suitable for beginner and experienced birders.
Second, you should invest in some binoculars. Look for binoculars with at least 7 x 35 or 8 x 42 power. As you become a more advanced birder, you can upgrade your equipment based on your individual needs. When you set out, bring a checklist and perhaps a camera with you on your walk to document which birds you've located and identified. Also bring a notebook to sketch or jot down characteristics of birds you need to research later.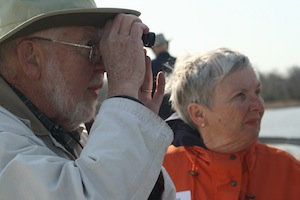 Map Your Walk – While you can be on the lookout for bird species almost anywhere, you''ll have your best results at parks and wildlife preserves. You can tailor your trip to your interests. Love the water and enjoy looking for seabirds? Plan a trip along the beach or a local harbor. If you prefer songbirds and walks in the woods, look for locations with inland walking trails. You can look here for some of the best bird watching locations in Northern Ohio.
Learn From The Experts – During The Biggest Week In American Birding, birders from around the world travel to Northern Ohio to see more than 100 bird species during a key point in their migration. Many of these birding enthusiasts come well equipped with professional-class scopes and expert knowledge, and they're often happy to give tips to new birders. Check out the event and workshop schedule at the link above to catch up with the group. If you can't make it any of the events, try seeking out the staff at your local park or wildlife center. Many are eager to share their knowledge and helpful resources as you get started.
Want to learn more about fun activities you can enjoy in your retirement years? Subscribe to our blog at http://www.kendalnorthernohio.org/blog.