Gardening is a favorite hobby and aerobic exercise of many older adults, including Kendal at Home member Judith. An avid gardener of old roses, Judith shares how she became interested in gardening and provides insight into the different varieties of roses, should you want to test your green thumb!
My interest in old roses (also known as heritage or antique roses) began on a winter day about 1993 when I was scouring a Wayside Gardens catalog and read about a rose with fragrance so intense, it had been a source of foundation for perfume— for many centuries. Moreover, over half a dozen varieties were offered that had fragrance, subtle color, and a distinctive blossom configuration.
I was intrigued! Never before interested in roses, I bought 10 varieties that year. The gorgeous, fragrant, and abundant flowers were such a success that I added more each year. When we moved to our present home nine years ago, I felt blessed to have a wonderfully sunny front lawn, so of course that meant I could build another roseraie – French for rose garden.
Just what is an old rose? Technically, it's a rose variety bred or in existence prior to 1867, which is when Guillot introduced the first Hybrid Tea rose, the silvery pink "La France." Roses bred after 1867 are considered modern varieties.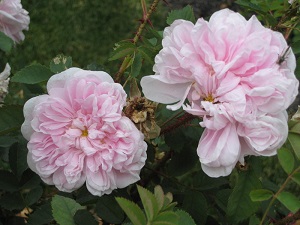 The new Hybrid Tea roses looked quite different from the old varieties: They displayed a single rose at the end of a stem rather than clusters on a stem; their flowers were multi-petaled, but more elongated than round, and restrained in size. They also were recurrent, blooming several times over the season (many old varieties bloom only once a season). And they attained colors that had never been a part of the antique palette.
By the 20th century, the Hybrid Teas were so attractive, gardeners' interest in antique types waned drastically. But in developing these favored traits in Hybrid Teas, breeders sacrificed fragrance, distinctive muted or subtle colors, and the beautiful "cabbage-rose" shape of many old varieties. Even today, Hybrid Teas require more regular feeding, watering, and careful cultivation, and, of course, have to be protected from pests, such as aphids and Japanese beetles, to maintain their glamorous good looks.
I have created a website, www.mozartsroses.com, to share photos and information about the Old and Modern roses in our garden. This site is always in progress. Please visit to watch it grow!
Judith's story originally published in the Spring 2013 issue of "LeChat," the Kendal at Home member publication. To discover more ways older adults can get active, download "Remaining Active: How to Begin a Regular Exercise Routine" today!
photo credit: Judith