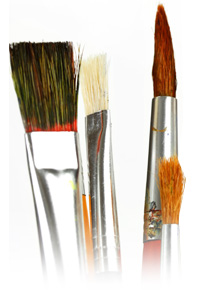 If you subscribe to the Kendal Northern Ohio blog, you''re likely familiar with the story of Bob C., a Kendal at Oberlin resident and scenic artist, who is using his talents to bring new life to the walls outside of the Fox & Fell Dining Room at Kendal at Oberlin. (Did you miss Bob's story? Read "Romantic Mural Spices Up Fox & Fell Dining Room at Kendal at Oberlin" and "Discover What's to Come in Kendal at Oberlin Dining Room Mural" now!)
Bob's talent is astounding, but we know he's one of many mature artists in Northeast Ohio, and we want to celebrate them all! That's why Kendal Northern Ohio, in collaboration with Trinity Cathedral, is sponsoring "Community ARTreach," a juried fine art show, featuring the work of artists age 60 and above. The exhibition is an affirmation of the talents, creativity, and accomplishments of older adults from Kendal at Oberlin, Kendal at Home, and the greater Northeast Ohio community.
Community ARTreach Details
Community ARTreach will be held in the Trinity Gallery at Trinity Commons, 2230 Euclid Ave., Cleveland, OH, August 4-25, 2013. Any Northeast Ohio artist age 60+ is invited to submit his or her work for consideration by the jury.
The deadline for submissions is Monday, June 10, 2013. Artists may submit as many as four (4) entries. Submissions can be made online using our electronic entry form or via mail using our printable entry form. (See additional details and requirements by registering here.) Additional questions can be directed to Nancy Freed. Contact her by email at nfreed@kao.kendal.org or by phone at 440-449-2688.
Help Us Spread the Word!
Not an artist, but have a friend whose works rival those in textbooks? Help us spread the word! Encourage artistic friends, relatives, and neighbors to submit their paintings, drawings, prints, and/or photographs today! Don't forget to applaud their talents by attending the nearly month-long exhibition this August.
Visit Kendal Northern Ohio online to learn more about Community ARTreach today!