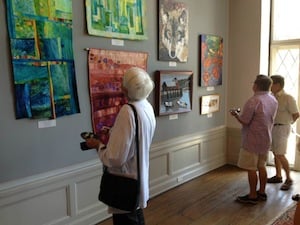 "Some of our most powerful works of art have been produced by older Americans—by hands that have engaged in years of hard work, eyes that have witnessed decades of change, and hearts that have felt a lifetime of emotions. Our whole society benefits when older Americans use their talents and experiences to become involved in the arts as creators, teachers, mentors, volunteers, and audiences." These were the words of United States Secretary of State Hillary Rodham Clinton during her monograph for the National Assembly of Local Arts Agencies, Americans for the Arts.
Currently, Kendal Northern Ohio, in collaboration with Trinity Cathedral, is sponsoring "Community ARTreach," a juried fine art show, featuring the work of artists age 60 and above. The gallery highlights the artistic skills, talents, and accomplishments of older adults from Kendal at Oberlin, Kendal at Home, and the greater Northeast Ohio community. These works are special because they were created by the minds and hands of experienced artists.
Share Your Love of Art with Friends
For older adults who have goals of remaining active, visiting the exhibit is a wonderful opportunity to get out and socialize. If you have friends who share your interest in fine arts, gather a group and go together! If not, don''t be too shy to attend the show alone— you may meet new people and bond with new friends over your love of art. By doing this, you are remaining active and engaging in social activity, which is linked to better health in older adults.
The exhibit opened August 4th and runs until August 24th. With several days left to visit, you still have plenty of time to come in and enjoy the talents of your peers. The Gallery at Trinity Cathedral is open Monday through Friday, 9:00 am to 5:00 pm., and from 9:00 am to 3:00 pm on Saturday and Sunday.
For questions, please call Nancy Freed at 440-449-2688 or e-mail at nfreed@kao.kendal.org.