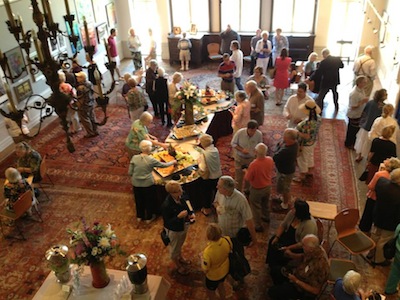 Older adults are capable of creating the most spectacular works of art. No recent event is more of a testament to that fact than Community ARTreach, a juried fine art show for Northeast Ohio artists ages 60 and above. Community ARTreach opened with an artists' reception August 4 and continued through August 24. It was presented by Kendal Northern Ohio in collaboration with Trinity Cathedral.
Kendal at Oberlin residents, Kendal at Home members, and mature artists from the greater Northeast Ohio community submitted works of art for consideration in the months prior to the event. Sixty-six-year-old Kendal at Home Caregiver Anna was one of 39 artists whose work was part of the show. She described her first piece, titled "Mother and Child," as a modern interpretation of classic Madonna and Child paintings. Her second work, "Zebra," was made entirely from crayon.
"My dear aunt likes to remind me and everyone else she gave me my first coloring book and crayons," she says. "And I aced crayons early on. My strongest skill is drawing, but I've done some painting."
Kendal at Oberlin resident Don on the other hand excels at painting. He had two watercolor paintings juried in the show, both of which sold. "Howdy, Neighbor" is a painting of an Amish man working in his field, waving to a neighbor going by on a buggy; "The Importance of Place" is of a country road winding through wooded area with a little farm alongside. "It kind of looks like some place you might have seen some time in your life," he says. Both paintings are reminiscent of Ashville, Ohio, where Don and his wife lived before relocating to Kendal at Oberlin.
Don, who describes himself as a hobbyist painter, says he spent most of his life creating oil paintings, and then acrylics. It wasn't until the 1980s when his wife asked him to join her in watercolor courses she was taking that he experimented with the medium. "Now almost all of my paintings are watercolor," Don says. "I just enjoy the freedom and spontaneity of that medium."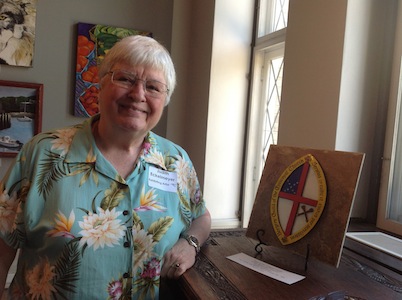 But Community ARTreach didn't exclusively feature drawings and paintings. Three-dimensional works, like Kendal at Home member Judy's "The Shield of the Vergers' Guild of the Episcopal Church" clay ball relief, we're also on display. She says the thrill of submitting one's work for entry is one reason older adults should consider participating in Community ARTreach.
"I don't think people tend to create art works just to submit them to a show, but it gives you a subsidiary goal to shoot for if you''re really a practicing artist," she says. "You''re getting inspired by the things other people do. It just helps with the creativity of the individual in general."
The immense creativity made judging this year's pieces especially difficult for members of the jury, including retired Oberlin High School art teacher Lorna. Lorna wouldn't say what her favorite Community ARTreach work of art was, but she did say the spirit of the pieces rivaled that of the high school and college students she''s used to viewing.
"I don't think you could just walk into this show and say, 'Oh gee, these pieces are definitely by people over 60,'" she says. "It was difficult to make the choices we did because there was lots of great work submitted."
Lorna also had two works hung in the show: "Beach Girls" and "At the Café," both oil paintings. In the spirit of fairness, she did not judge her own works.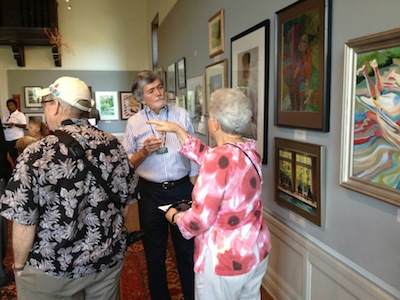 This year's Community ARTreach show may be over, but all artists agree participating was definitely worthwhile. "I think it''s great Kendal is promoting senior activity of this sort," Judy says. "The level of creativity and technical ability in these things has been, I think, very high. There''s a lot of control and control of mediums. There are a lot of ways of thinking about the medium and the subject matter that I think is remarkable."
"It''s an excellent way to meet older artists. That's the real draw," Don says. "You get to stand around and talk to folks age 60 and older, and they are really just having fun with art."
And even if you''re not an artist per say, Anna says attending the show is a wonderful way to meet other older adults with a deep appreciation for art. "As we get older and our opportunities for social contacts can get limited, I just think it''s important to see other people's work and to feel that you''re part of the greater community."
Don't miss upcoming Kendal Northern Ohio events! Subscribe to our blog for previews of what we''re planning next!