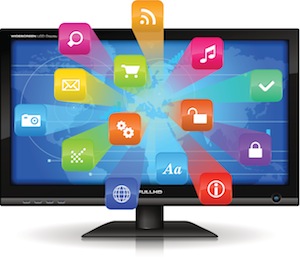 Today's older adults are independent and increasingly tech-savvy, so how is it the phrase most often associated with technology for seniors is, "Help! I've fallen and I can't get up!®"? That's the question posed by Independa, a technology-enabled independent living solutions provider.
In a time when 43 percent of those 65 and older are using social media, Independa strives to put this outdated and incorrect image of older adults to rest. Now Kendal at Home is joining in that quest by rolling out Independa's CloudCare solution to its Members in a new Technology Initiative.
What is Independa CloudCare?
Independa Integrated CloudCare is a telecare and social engagement solution comprised of Independa's cloud-based Caregiver Web App and personal interaction companion (known as "Angela").
With CloudCare, Kendal at Home Care Coordinators and your caregivers can access centralized monitoring, reporting, and analysis tools that allow them to effectively monitor your health at all times. Kendal at Home Members, on the other hand, will have access to video chat, email, and Facebook, as well as Smart Reminders, which help you remember important events like doctor's appointments and social engagements.
Both the Caregiver Web App and "Angela" are accessed through an LG Pro:Centric Commercial television and home sensors. The televisions come with:
Custom-designed camera and microphone capability, which allow you to interact with your loved ones directly through the television.
A unique "magic remote" with a special rolling cursor designed for easy use with the CloudCare interface.
Kendal at Home Care Coordinators will handle all logistics regarding television set up in Members' homes. Kendal at Home Members will receive these televisions at no additional cost. No new or special technical skills or knowledge are required to operate CloudCare. And because the technology is cloud-based, Independa will make all upgrades without needing any action on your part.
Kendal at Home and Independa CloudCare
Lynne Giacobbe, Kendal at Home Executive Director, explained why Kendal at Home pursued its partnership with Independa at Kendal at Home's Healthy Aging Day in mid-October: "We explored the market for a lot of technology solutions that would fit our needs. What we found different about Independa is its socialization aspect, which connects you with care coordinators, caregivers, and family members. This initiative will provide a more comprehensive approach to integrating technology and providing Members with a much needed upgrade from their single point solution of older PERS devices to a new, user-friendly and integrated solution spanning all aspects of care."
She continued, "We're the first At Home program to launch this project, so we're very excited to move forward."
CloudCare Already Being Tested in Members' Homes
Before any major technology rollout, organizations commonly enlist "beta testers," or a small group of individuals who test products to identify possible flaws or issues, and Kendal at Home made no exception for its Technology Initiative! Kendal at Home Members John and Margaret were among the elite group.
So far, said John, CloudCare has proven to be an easy-to-use, effective tool for keeping in touch with family. "Our closest child is three hours away, and the other two live in North Carlona," John said. "[With CloudCare], it's easy to see our children, see the dogs, see the kids. It really is going to make it easy to stay in touch with your family."
John said he also already sees the technology's potential to better serve him and his wife down the road. "We don't need a lot of care now, but it's going to come. I think being able to connect to our caregivers without them having to come to the house is important," he said.
If you are a Kendal at Home Member interested in learning more about Kendal at Home's Technology Initiative, contact us today by calling 440-835-8681.