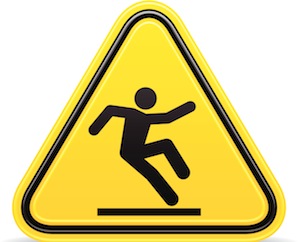 Falls are a normal part of aging, right? Wrong! There are many myths surrounding falls among older adults. Some people misunderstand how falls can be prevented. In fact, some people believe falls can't be prevented at all. This misinformation is counterproductive when it comes to really understanding falls affect older adults and what can be done to improve safety.
Here we take a look at a list of myths about falls from the National Council on Aging:

1. If I'm Not Active, I Won't Fall
Some older adults who are worried about falling think avoiding physical activity can actually prevent a fall. The truth is exercising and practicing your balance can be one of the best ways to avoid a fall. Muscles that are regularly used are more likely to help you catch your balance if you stumble or bump into something.
2. Getting Weaker is Part of Getting Older
It's true we can lose muscle mass and flexibility as we get older, but exercise can go a long way when it comes to maintaining your strength and agility. You should feel empowered to take control of your body and your life by maintaining a healthy and active lifestyle. Embracing fall prevention can also mean getting an education. Click here to learn more about getting a fall risk assessment.
3. I'll Lose My Independence if I Use a Walking Aid
If your doctor or physical therapist recommends a walking aid, you should heed their advice. Many older adults are able to maintain healthy, active lifestyles while using walkers or canes for safety. A walking aid is meant to keep you on your feet, not take away your independence. Just be sure your walking aid is properly fitted by a physical therapist so it does the most good in assisting you.
4. I Don't Need to Talk About Fall Concerns
Preventing a fall can be a team effort. Don't be afraid to talk to your doctor, your family, or your friends about what you're doing to prevent a fall. Your proactive approach may even inspire them to make their own homes and lives a little safer for everyone.
5. A Fall Won't Happen to Me
If you assume falls are something that only happen to other people, you may leave yourself open to unnecessary hazards. A fall can happen to anyone. Precautions like making sure your home has proper lighting and is free of clutter and loose rugs can prevent a fall. So can getting your vision checked regularly.
Click here to learn more about decreasing your chances of falling in the home.