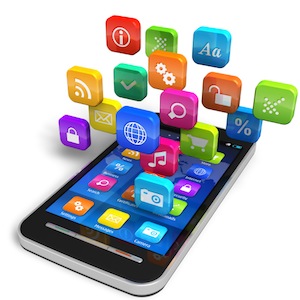 Mobile devices like phones and tablets put the world at our fingertips. These devices are often easier for older adults to use than a desktop computer because they're portable and work with a touch of a finger. You can get the most out of your devices by downloading apps. There's an app for everything (and we mean everything), so feel free to explore your options when it comes to games, reference, travel guides, cooking, weather, photos and anything else that suits your fancy.
Don't know where to start? We suggest a few apps to explore below!
Weather
Are you sick of watching the evening news just to get the daily weather report? You can get forecasts and weather alerts for free any time you want by downloading the WeatherBug app.
Exercise
Keeping track of your exercise routine is one way you can keep yourself motivated and see your progress. Download the MapMyWalk app to keep track of your daily walks, including how many calories you burn, your pace, and how far you go.
Recipes
Make eating healthier easy by finding new and exciting healthy recipes on the EatingWell.com app. You can browse by meal (breakfast, lunch, dinner, and appetizer) or by whatever ingredients you have on hand.
Medication Reminder
Day-of-the-week pill containers have been helping us keep track of our medications for decades. Now there are apps to remind you when to take your medications. Try OnTimeRx for handy and helpful pill reminders.
Brain Games
You know that challenging your brain can improve your memory and keep your thinking sharp. Try the Clevermind app for games and puzzles specifically designed with Alzheimer's and dementia prevention in mind.
Health Providers
You probably have a primary care doctor, but sometimes an appointment just can't wait. Just enter your illness, insurance, and location into the ZocDoc app, and it'll give you the name of a doctor who can see you the same day. This is especially helpful if you travel a lot and come down with an illness while on the road.
Want help managing your medication the old-fashioned way? We share helpful management tips in this free guide.