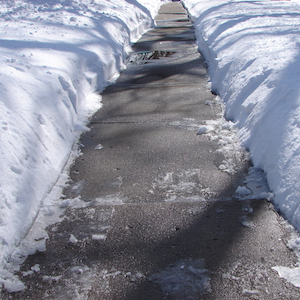 Whether you live in the Great Lakes Snow Belt or a region of the country with typically milder winters, chances are you've experienced your fair share of snow and ice this year. And while you're sure to stay indoors during severe winter conditions, you can't stay inside all winter. When you do go outside, snowy or icy conditions make you more susceptible to falls.
To help you stay on your feet when the ground is slick with snow or ice, the Ohio Department of Aging's Steady U initiative offers tips on what to wear and carry:
What to Wear
Bundle Up, but Keep Vision Clear: When preparing to venture into the cold outdoors, AARP advises to wear several thin layers—with a base layer of wool, silk, or synthetic material—and a hat to protect against heat loss and wetness. A scarf is another good addition to shield the sensitive skin on your face from bitter winds. To prevent falls, it's important to ensure your clothing and headgear does not hinder your vision. Before heading out, always make sure you can see in all directions and move easily and freely.
Reduce Glare with Sunglasses: When you think of sunglasses, you, like most people, probably picture hot, summer days. However, sunglasses and sunscreen are just as important in the winter as they are in the summer. Sunglasses are vital in helping reduce glare from the sun and snow to help you see exactly where you are walking.
Always Choose Shoes with Tread: Choose shoes that will help you get the best grip on snowy and icy pathways. Wear sturdy shoes or boots with treads every time you go outside, even if you're just going out to get the mail or newspaper. (Tip: After returning inside, dry off shoes and any assisted walking devices like canes as soon as you get indoors. Wet shoes on dry floors are just as dangerous as dry shoes on wet surfaces.)
What to Carry
Bring Your Own Salt: There's no such thing as too much tread when it comes to icy or snowy walkways. To help you get a more secure grip, carry a small bag of salt, sand, or kitty litter in your pocket to sprinkle in front of you for traction on icy paths you can't avoid. When walking on icy surfaces, slow down, shorten your stride and walk with your feet pointed out slightly and knees slightly bent to increase traction and balance.
Stay Fog-Free: When hot air meets cold lenses (or vice versa), glasses will fog. A sudden fogging of the glasses can be hazardous if you're walking outdoors or if you've just walked indoors and are wearing wet shoes. That's why you should carry an eyeglass cleaning cloth and stop immediately to clean glasses if they fog up.
Be Ready to Call: If you're going out alone, always carry a cell phone. Designate a person to call in case you do fall outside, and make sure that person knows what to do should you fall. Only use your cell phone for emergency purposes when walking outside during the winter. Chatting on the phone while walking can prevent you from spotting hazardous footholds.
We'll be following this blog with even more tips for preventing falls in winter weather. Subscribe to the Kendal Northern Ohio blog today so you don't miss it!