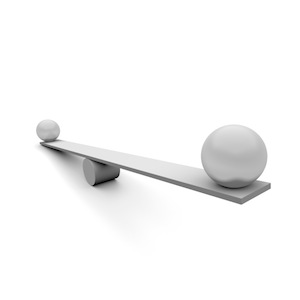 Seventy-four-year-old Kendal at Home Member John says he considers himself very active. A tennis player since the age of 10, John still competes in various United States Tennis Association (USTA) tournaments. And while his game has certainly changed throughout the years, one particular change was more worrisome than others.
"I had noticed this, what I call shuffling," John says. "It really didn't occur to me why I was shuffling. I just figured I was getting old." It was around this time that John and his wife attended Healthy Aging Day, the kick-off event to Kendal at Home's Healthy Aging Initiative. As part of the day's activities, John underwent a balance assessment using a specialized machine.
He explains how the assessment worked: "You get up on a stand, and you stand on one foot, then two feet, and then you close your eyes. Then they put you up on a pillow of some kind. The people in front of me had come out with charts with all sorts of green bars on them. [My chart] came out with all kinds of red bars."
Despite his active lifestyle, the balance assessment showed John was at risk for falling. This prompted him to take action. "I talked to my doctor and got a referral to a physical therapist in Oberlin who specializes in balance," he says. "When I went over to the physical therapist, she said my balance was good but could be better."
To improve his balance, John's physical therapist introduced him to a number of new exercises, many of which were similar to the motions he performed during the balance assessment. "I bought some inflatable rubber pillows that are maybe 14 inches in diameter. You have to stand on those for 30 seconds, then 60 seconds. Then you have to stand on one foot. And then they have you close your eyes," he says.
Though he calls the exercises difficult, John says he's already experiencing results. "I've had four or five sessions, and I'm still working at it, but I've seen marked improvement in the shuffling," he says. John has also noticed improvement in the motion of his neck as a result of the physical therapy, which has helped him drive more safely.
John credits Kendal at Home for helping him understand falls can happen to all older adults, no matter their physical ability. [Having a balance assessment] was the farthest thing from my mind," he says. "[Kendal at Home provided] some intervention at a point when I didn't know there was anything wrong. It was very useful."
Want to know more about how Kendal at Home is helping older adults prevent falls and age successfully in the home? Contact us about our Healthy Aging Initiative today!