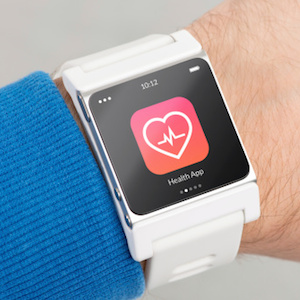 When you think of the latest gadgets, you likely picture smartphones, tablets, and eReaders. But there is a new generation of never-before-seen technologies created to enhance your life in the near future. We examine five technologies primed to reach consumers by the end of 2014 here:
1. Nymi Biometric Wristband
From company Bionym Inc., the Nymi biometric wristband takes personalized security to a whole new level using your heart's unique rhythm. The device features an ECG sensor with two electrodes placed on different sides of your wrist. When you touch the top electrode with your opposite index finger, the bracelet records and stores your unique ECG data. Once your identity is confirmed, the bracelet communicates wirelessly with your computer, handheld devices, car, and more without the need for passwords or PIN numbers.
2. Curved Televisions
The next level of HDTV innovation is not flat, but curved. The curvature is called "gimmicky" by skeptics, but the design actually tricks your brain into perceiving an increased level of depth. The screen's bend matches the curvature of our eyes, and enables the picture to mimic how we see things in the real world.
3. 3D Printing
Imagine if you could use a printer to print out instruments or even clothes! 3D printers allow you to print out almost any three-dimensional solid object you can imagine. Although not new to the scene (they've been around since the 1980's), they're now becoming more affordable and accessible to the average user.
4. UVA+B Sunfriend® Activity Monitor
Sunlight is wonderful for your health and can maximize your Vitamin D production, but how do you know when you've been in the sun too long? SunFriend's UVA+B Sunfriend Activity Monitor, a wristband designed to monitor your exposure to damaging UV rays, can help! Inspired by small, powerful UV sensors developed by NASA, the wristband signals when it's time to go inside or apply a heavier sunscreen.
5. Haptix Controller
Touch screen technology has become exceedingly popular over the past few years. Now, Ractiv Inc. is seeking to bring the magic of touch to any computer or surface with its Haptix image sensor. Clip Haptax to your computer screen, and you'll be able to tap, swipe, and pinch your fingers to move and resize images on your keyboard. Even before you touch the surface, the sensor sees where your fingers are and how they correspond to the screen, so you touch what you see.
Have more articles like this delivered straight to your email inbox! Subscribe to the Kendal Northern Ohio blog today!