In the world of nutrition, we often hear the advice to eat more fruits and vegetables. Although this is good advice, you may question why it is so important. How much should I be eating? And are all fruits and vegetables created equal? What is in fruits and vegetables that make them so beneficial?
Well, there are numerous benefits. Fruits and vegetables are a good source of vitamins, rich in fiber, and low in calories and fat. Over the past few years, another beneficial component of fruits and vegetables drawing more attention is anthocyanins. The more we learn about anthocyanins, the more we may be convinced to increase our efforts to eat the recommended amount of fruits and vegetables suggested by health practitioners.
Never heard of them? You are not alone. Anthocyanins are phytochemicals found in certain fruits and vegetables that provide a bright blue-violet or red-orange color. They are most commonly found in berries—like blueberries, strawberries, and black raspberries—concord grapes (and their juice), and red wine. Anthocyanin pigments have been used in folk medicine for generations in treating vision disorders and infection. Only recently have the pharmacological properties been isolated and studied in controlled research trials.
While the answers to how and why anthocyanins prevent disease remain somewhat of a mystery, it is becoming clear that they are instrumental in reducing certain health risks. There is a growing amount of evidence showing anthocyanins play an important role in the prevention of cancer, heart disease and memory loss. They have also been found to enhance visual acuity. Those are some exciting claims!
Cancer
Anthocyanins, when studied in the laboratory and in animals, have anticarcinogenic activities. Again, the exact mechanism for how these dietary compounds prevent cancer is unclear. In one study by Wang LS, Stoner GD, "Anthocyanins and Their Role in Cancer Prevention" from 2008, anthocyanins not only act as antioxidants, they also prevent cancer cell growth and multiplication, induce cancer cell death, have anti-inflammatory effects, and prevent cancer cell invasion.
Human studies have not been as promising. However, in a study of 25 colon cancer patients who received 60g/day of an anthocyanin-rich black raspberry powder for 2-4 weeks, the tumors showed reduced growth rates and increased cancer cell death.
Heart Disease
There are several studies that show a link between anthocyanin-rich foods and heart attack prevention. One of the largest studies followed a group of 93,600 healthy women from the Nurses' Health Study II, which took place over an 18-year period. There was a significant reduction in the number of heart attacks associated with a high intake of anthocyanins. Those consuming more than three servings of blueberries and strawberries per week had a 34 percent lower risk as compared with those who had fewer. This was believed to be due to the fact that anthocyanins may reduce arterial stiffness and blood pressure, which are strong indicators of whether an individual may be prone to developing atherosclerosis and CVD.
Cognitive Function
Anthocyanins have been credited with the ability to enhance memory and to help reduce age-related declines in mental function. Although there are no human studies yet available, animal studies showed improvements in certain aspects of memory. In one particular study published in the British Journal of Nutrition (2010), the consumption of blueberries resulted in an improvement of blood flow to the brain and inhibited neuroinflammation.
Another study published in the Free Radical Biology and Medicine journal (2004), showed that some dietary anthocyanins can cross the blood-brain barrier, allowing the compounds to have a direct beneficial effect.
Anthrocyanin Recommendations
Although knowledge is limited regarding the mechanisms of anthocyanins and how much we need to eat to receive their health benefits, it is wise to increase them in our diet now. Ximena Jimenez, a spokesperson from the Academy of Nutrition and Dietetics says to aim for three or more servings per week.
Start your day with blueberries or blackberries, grape juice for lunch, and add eggplant, purple cauliflower, or purple onions to your favorite recipes. "Another good idea is to keep frozen berries on hand to add to a blended smoothie," she says. Look below for a delicious berry-filled smoothie recipe from The Pioneer Woman!
Go Berry Picking!
Picking your own berries is a great way to buy the best quality produce, support local business, and get some outdoor exercise. One way to find a local berry farm is to go on the website PickYourOwn.org. This is a wonderful resource for locating farms by state and county. The summer months are berry-picking season. Here in Ohio, the best times for berry picking are as follows:
Strawberries (June 1-June 30)
Blueberries (July 15-September 15)
Black raspberries (July 1-August 15)
Want more information on eating healthy as you age? Check out our guide "Feed Your Body Right: Nutritional Needs After 50."
---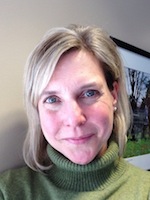 About Sue Campbell, RD, LD: Sue is the Community Nutritionist at Kendal at Oberlin in Oberlin, Ohio. She studied at Ohio University and graduated with a degree in Dietetics in 1992. She has been working with older adults for the past 15 years and particularly enjoys wellness topics, cooking and writing.