Did you know that if you're 65 or older you have a 70 percent chance of needing long-term care in the future? If that statistic frightens you, don't worry — that means that at least a third of adults over 65 may never need it. That doesn't mean, however, that you should not plan for any possible care needs.
Here's a look at how to plan for long-term care services for adults 65 and older.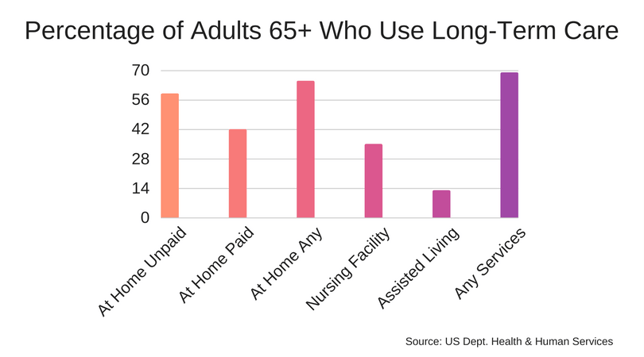 Types of Long-Term Care
The U.S. Department of Health and Human Services reports that most long-term care services are provided at home. These services can be provided by a nurse or home health aide or an unpaid caregiver like a family member or friend. You also could find care services through community support like adult day care or transportation services.
Other options outside of home care include nursing homes, assisted living facilities or continuing care retirement communities (CCRC).
Whether you plan to stay in your home or eventually want to live in a CCRC, you want to make sure you're prepared. Taking time to consider the items below can help.
Examine Your Home
If you plan to stay in your home as you age, evaluate the state of your home. The U.S. Department of Health and Human Services recommends considering the following:
Look hard at the condition of your residence. Is it in good shape? Or will it need repairs, and are you able to make them?
Can your residence be adapted to accommodate things like a wheelchair or other medical devices or equipment?
Does your town offer services like adult day care or does it have a senior center? Are there medical facilities near your home?
How aging-friendly is your town? Does it offer public transportation, meal delivery services or other services?
To find out whether your town is aging-friendly, contact your local Area Agency on Aging.
Consider an Advance Directive
An advance directive is used to describe two documents: A living will and a medical power of attorney. Advance directives help ensure you receive medical care according to your wishes if you unable to make decisions for yourself. These documents should include all the medical treatments you do and do not wish to receive.
Protect Your Assets
A durable power of attorney or living trust can help protect your assets and control how they are used in your care. With a durable power of attorney, you choose the person to manage your financial estate and make healthcare decisions. A living trust, however, puts your assets into a trust that are administered for your benefit while you are alive.
Whether you have an advance directive, a durable power of attorney, a living trust or all three, the U.S. Department of Health and Human Services recommends talking to your family and other important people in your life about your wishes.