Who doesn't love dipping into a container of juicy, ripe strawberries? Or taking a bite of a crisp bell pepper? Buying seasonal fruits and veggies saves you money and allows you to support local farmers. And since you've got the freshest ingredients, you can prepare fresher, tastier meals. The next time you make a trip to the grocery store or your local farmers market, keep these seasonal fruits and veggies in mind.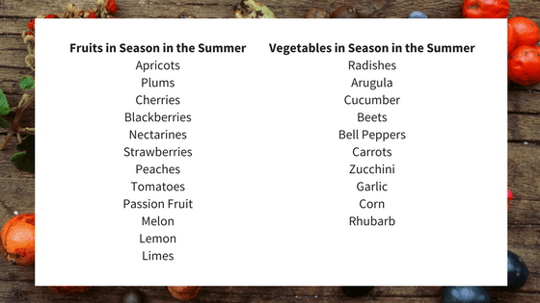 3 Summer Recipes to Try
Pickled Ginger Cucumbers
These crisp veggies are good for much more than spa treatments. Cucumbers are good sources of fiber, potassium and magnesium, and they are a great replacement for celery in tuna or chicken salads.
Put a new twist on this summer staple by adding Asian ingredients.
What You'll Need:
2 pounds English cucumbers cut into ⅛-inch-thick slices
4 tablespoons matchstick-cut pickled ginger, drained
2 tablespoons minced fresh ginger
1 cup rice vinegar
1 cup sugar
1 teaspoon salt
1 teaspoon crushed red pepper (optional)
How to Make:
Put cucumber slices in a bowl. Combine pickled ginger and the rest of the ingredients and add to cucumbers. Toss to coat and chill for 30 minutes. Serve cold.
Peach Ice Cream
Ice cream in the summer, what could be better? Add peaches and you'll get a fruity treat. These sweet fruits are an excellent source of vitamin A and potassium.
What You'll Need:
2 cups fat-free evaporated milk
1 cup fat-free milk
⅔ cup calorie-free sweetener
½ cup egg substitute
¼ teaspoon almond extract 2 medium (or 1 cup) chopped peaches
How to Make:
Combine all ingredients except for the peaches in a large bowl. Beat with a mixer at medium speed until blended. Stir in peaches. Freeze.
Roasted Peppers with Garlic and Herbs
No summer diet is complete without the crispness of bell peppers. These colorful veggies provide more than 100 percent of your daily recommended amount of vitamin C and contain vitamin B6 and folic acid. These roasted peppers go nicely with a burgers, lamb or chicken.
What You'll Need:
4 bell peppers, halved and seeded
2 tablespoons extra-virgin olive oil
2 garlic cloves, thinly sliced
¼ teaspoon dried oregano
Salt and pepper
Fresh basil leaves, torn
How to Make:
Preheat your oven to 450 degrees. Put peppers cut side up on a baking sheet and drizzle with olive oil. Divide the garlic among the peppers and sprinkle with oregano, salt and pepper. Roast 35 minutes or until the flesh is tender and the skin is blistered. Top with basil and serve.