It's 2 p.m. on a Friday, and the conference room tables in the Kendal at Home office in Westlake, Ohio, are wrapped neatly in newspaper. Volunteers wearing aprons are handing out black and white tablet paper, multicolored pieces of string, paper plates, and miniature paint rollers.
It's a scene typical of any craft meetup group, but those gathering around the table aren't your typical meetup group attendees. And by the time this session has ended, they will leave not just with an artistic keepsake, but with a deep sense of community belonging. This is Art Care for Dementia.
Art Care for Dementia (or Art Care) is a program presented by the Carolyn L. Farrell Foundation for Brain Health. The Foundation, co-founded by Charles (Charlie) Farrell, M.D., and Reverend Katie Norris, provides community programming designed to decrease social isolation and increase community support among those with non-reversible causes for dementia, such as Alzheimer's disease or Lewy Body Dementia.
The Foundation is named for Charlie's wife and Katie's mother, Carolyn (Carol), who has been living with Lewy Body Dementia for the past eight years. The father-daughter duo started the Foundation about four years ago when they discovered there were few activity based community programs for people living at home with dementia.
"One of the big problems with folks with dementia, they become stigmatized by the diagnosis, and they tend to become isolated," Charlie says. "In a long term care setting, most institutions have some form of care. People who have dementia living at home have very few opportunities to become engaged in this type of enrichment care. We're trying to fill that niche."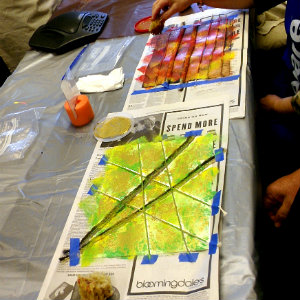 The Foundation provides mostly art based programming because, according to its website, art and imagination do not necessarily require memory, making them relatively easy to tap into for people with dementia. "Art and imagination, imagination in particular, will remain with folks for a long, long time," Charlie says. "Instead of asking folks to name something they can't remember, they can see the products on the table; they can arrange those products in any way they like. We use this primarily as a means of communicating."
The goal of Art Care is not to treat or change those participating. Rather, it aims to build a supportive and social community. "This isn't therapy. We use art as a communication tool, not to be confused with art therapy, which has a certain goal, usually to alter someone's behavior," Charlie says. "We don't have a specific goal. We are not art therapists. We are care partners here to help our loved ones to socialize and participate in the social process. We use art as a medium to connect us all together."
In a previous Art Care session, participants devised a story by reviewing historical photographs and sharing anything and everything the photographs brought to mind—a creative storytelling exercise called TimeSlips. On this particular day, participants created abstract paintings.
Artist and volunteer, Jerry, discusses the color wheel to the day's artists, explaining choosing complementary colors (like red and green or blue and orange) would give the best results, while volunteers Shar and Gretty pass out different size pieces of string to be taped to the paper. Strings firmly in place, Gretty walks around the tables asking which two colors each individual would like to paint with.
Dollops of paint on paper plates, participants pick up their paint rollers and slowly spread the colors. Volunteers ask if they'd like to add metallic accents by dabbing on additional paint with a sponge and sprinkling glitter atop the wet paint.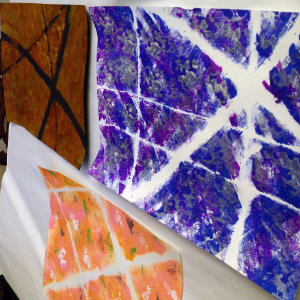 As the paint is drying, Charlie walks around the room encouraging the artists to think of a title for their piece. Then, each person carefully peels the strings from their paper, revealing the finished product. Frame in hand, Charlie displays each person's painting, asking for the title. The titles range from the simple "Calm Blue" and "October Song" to the complex "Autumn Leaves Drift by My Window."
There is a round of applause and wave of encouraging remarks as Charlie holds each painting up. "This is a no fail system. Nobody can do anything wrong," Charlie says. "They're all encouraged to express themselves and see themselves. One of the nice things about art, it's a universal language, so to speak, and everybody can participate in it."
Art Care is hosted at Kendal at Home every Friday at 2 p.m. For more information about the program, visit the Carolyn L. Farrell Foundation for Brain Health online. To learn about Kendal at Home, click here.