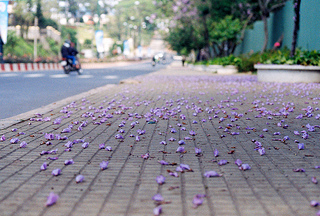 As you age, it''s vital for your physical and mental health to get up and get moving. As an Oberlin resident, you''re in luck! From pursuing the aisles at Ben Franklin and Bead Paradise to exploring the Ginko Gallery and Weltzheimer/Johnson House, the Oberlin community has plenty to keep you moving and entertained.
While it''s important you enjoy yourself during physical activity, it''s equally important to take the proper precautions to stay safe. Some sidewalks can leave you vulnerable to the dangers of oncoming traffic and possible falls caused by uneven ground. To stay safe this summer, check out these street and sidewalk pedestrian safety tips compiled by About.com:
Walk Facing Traffic: "If there is no sidewalk and you must walk on the side of the road, choose the side where you are facing oncoming traffic," About.com states. Making this small adjustment gives you increased visibility of oncoming traffic and possible dangers headed your way.
Cross Safely: While most intersections have a stop sign or traffic light, it is safest to only cross when you have the pedestrian walking sign. And even when crossing with the light, be aware of cars that may be turning your way.
Walk Single File: If you''re walking with a friend, make sure to stay ahead or behind him or her. This may not be the most desirable positioning for chit-chatting, but it will keep you out of harm''s way.
Stay Aware of Bikers and Runners: Summer and warm weather give everyone—, not just walkers—, the urge to head outside. Runners and bikers use the sidewalks, too, and being involved in a collision with either could result in serious injury. Listen for shouts of "crossing on left/right" from behind you.
Be Visible: Wear reflective clothing while walking or running outside at night or early morning to alert cars of your presence. You also want to wear bright clothing during the day, even if you''re easy to spot in the shining sun. "Be just as cautious at dawn or twilight, as drivers have limited visibility or may even have the setting or rising sun directly in their eyes," About.com advises.
Know When to Stop Walking: Although walking is a low-impact exercise, in the summer, heat can be exhausting. Heat stroke, dehydration, or heart attacks can strike even the most in-shape walkers. Listen to your body, rest when you feel tired or weak, and always carry a cell phone for emergencies.
Keeping these safety tips in mind and practicing safe walking habits will ensure you will stay safe while enjoying the Oberlin community this summer. Want to learn more about what makes Oberlin, Ohio, a great place to live? Download our free guide today!
photo credit: Khánh Hmoong