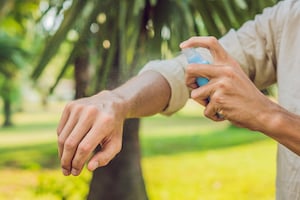 During the summer, we usually spend more time outdoors going for walks, swimming, enjoying picnics and more. The same weather that's attractive to us can also be ideal for insects, which means we're at increased risk for bug bites and stings during the summer months.
Fortunately, most of these bites are harmless, although they can sting, itch or otherwise be uncomfortable — although in certain circumstances, insects can trigger allergic reactions and spread disease. In this post, we'll provide information about summer bug bites and stings, along with how to treat them and when to seek medical attention.
In general, to prevent these bites from happening in the first place, MedlinePlus suggests the following:
Don't bother the insects.
Use insect repellent. (Here are tips on choosing the right insect repellent.)
Wear protective clothing.
When eating outside, be especially careful because food attracts insects.
If you have severe allergic reactions to insect bites and stings, be sure to carry an epinephrine kit.
Bug Bites and Stings Will Still Happen
Although it helps to take preventative measures, at some point you'll almost certainly experience bug bites and stings. When this happens, it's normal to have some redness and swelling around the site of the bite.
In most cases, you can treat the bites effectively yourself. If you're bitten or stung, and it's painful, the American Academy of Dermatology recommends that you take the appropriate dose of acetaminophen or ibuprofen, following the directions on the label.
For insect bites and stings that itch, you can put an ice pack on the spot and/or use an over-the-counter itch cream; for example, hydrocortisone. You may choose to instead take an oral antihistamine. Ice packs can also reduce swelling.
Significant symptoms, such as body aches, rashes, and/or fever should be reported to your doctor. During your visit, make sure that he or she knows about the bite because there is could be potential for a transmitted disease. Mosquito bites can carry some of the most significant insect-borne diseases. Fortunately, insect repellants can help, especially ones that contain DEET, picaridin, lemon eucalyptus, para-menthane-diol or IR3535.
It's also possible to have a severe allergic reaction to insect bites and stings. If this happens, you'll need to get medical attention as quickly as possible. Symptoms of an allergic reaction can include shortness of breath, swelling of your tongue, wheezing, vomiting or chest and/or belly pain. Also get medical attention if the redness keeps spreading, there is pus, or the area feels warm.
Insect Bites and Stings with Children
Let's say you take your grandchildren to the park and one of them gets bitten or stung. In general, you can remove any stingers by scraping the area with a fingernail and then wash the area with mild soap and water.
You can put ice on the area for 10 minutes, remove for 10 and then repeat. Elevate the area if the child was bitten or stung on an arm or leg. Age-appropriate over-the-counter pain relievers can be used, as needed, as can an antihistamine created for children. For itching, use calamine lotion or a mixture of baking soda and water.
Call 911 if your grandchild has had a previous allergic reaction to an insect bite, or if one or more of these symptoms occur:
sudden hives
facial swelling
trouble breathing
dizziness
fainting
If he or she was bitten or stung by the mouth, or the area is getting redder, larger or oozing, contact his or her doctor.