As Pride Month comes to a close, we at Kendal at Home are excited to have guest blogger Neal Kane shares some information on The History Project. Next week on July 9, The History Project team will join us for a special Coffee Hour to share some of the history of the LGBTQ community. Read on to learn more about this fascinating project and their work to preserve this important history.
The Stories Left Untold
Boston's LGBTQ (lesbian, gay, bisexual, trans, and queer) community encompasses tens of thousands of individuals throughout the region who are visible in virtually every profession and walk of life. They are free to marry—thanks in large part to legal initiatives that originated in Massachusetts—and to live openly as "out" individuals in cities and towns throughout the Commonwealth.
This is a relatively new phenomenon. During most of the area's documented history, same-sex relationships and expansive gender expression were both socially unacceptable and illegal. Many of these behaviors didn't even have a name: for the most part, the terms associated with the LGBTQ acronym have come into use over the past 50 years. Prior to that time, individuals who engaged in so-called "deviant" lifestyles lived a largely subterranean existence. Those who sought to express their sexual and gender identity publicly were, almost without exception, subject to arrest, rejection by their families, and termination by their employers.
The History Project; Documenting Boston's LGBTQ History
The History Project was formed in 1980 to document and preserve the history of Boston's LGBTQ communities, and to share that information with the public. One of our early projects was Improper Bostonians, a book-length version of an exhibit we created focused on Boston's LGBTQ history in the years before the Stonewall rebellion.
Improper Bostonians contains a wealth of stories focused on same-sex relationships and romantic friendships. Individuals profiled in the book range from John Winthrop, the first governor of Massachusetts Bay Colony, to "passing women" who, during the late 19th and early 20th centuries, lived as men and had relationships with women.
The impact of Stonewall
The Stonewall uprising of June 1969 had a transformational effect on American society, and on the history of LGBTQ communities nationwide, as described on The History Project's website:
As a result of events and uprisings like Stonewall and the chain of events that occurred in its aftermath, the lives of LGBTQ individuals began to be more prominently documented in the news media and through records generated by individuals and organizations—from flyers and photographs to articles, letters, and organizational bylaws. Organizations focused on LGBTQ history, including The History Project, were established in a number of cities in the United States and around the world. These groups played a key role in ensuring that the lives and accomplishments of LGBTQ individuals could assume their rightful place within the larger historical narrative.
A sense of connection and belonging
A defining characteristic of The History Project is that we are an independent organization. Because we don't operate within the confines of an institution—such as a university—we can develop a wealth of programming that speaks directly to our community's needs. Since the advent of the pandemic, virtually all our programs have been delivered and archived online, with topics ranging from a panel focused on coming-out stories to a presentation on LGBTQ migration and immigration. These presentations are easily and freely accessible on our YouTube channel. Our extensive repository of LGBTQ-related archival materials—one of the largest in the nation—includes thousands of records from dozens of collections that can be accessed via our website.
We docume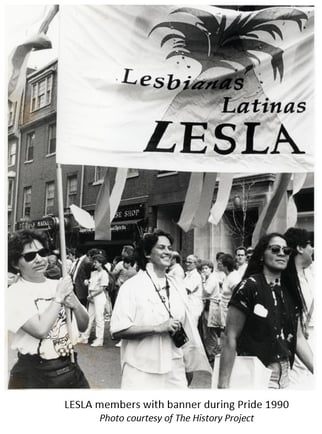 nt and preserve LGBTQ history to help community members and allies gain a deeper, richer understanding of the lives of LGBTQ individuals in the Boston area—our struggles and our triumphs. This work is critical for people who identify as LGBTQ, since traditional historical narratives haven't connected us with our "ancestors." Because many of us are childless, the sense of connection and belonging that comes from participating in a supportive, vibrant community is incredibly meaningful—especially given that our history was erased from mainstream historical narratives for centuries.
Seniors are essential
Seniors play a central role in our work to fulfill the mission of The History Project. First, given that many seniors have had to deal with the impact of homophobia on their lives, careers, and relationships, it's crucial that we provide seniors with opportunities to learn about and take pride in the vital role they have played in our community's history. Second, with each passing year that takes us further from the Stonewall rebellion, it becomes even more important for us to document what LGBTQ people experienced during the years when their lived experience was often judged, ignored, and devalued. Equity, diversity, and inclusion are key elements of this work: We have a special interest in ensuring that communities who have experienced marginalization—such as women, people of color, and people with disabilities—play a central role in our efforts to document and share our community's history.
We're always looking for seniors who have materials, such as personal papers, that they may want to contribute to our archives, and/or who may be interested in being interviewed for our growing collection of oral histories. Because The History Project is primarily a volunteer organization, our success also depends on the generosity of community members who are inspired to support our work financially.


To learn more, please visit our website or send email to info@historyproject.org.